Short description
The component enables the user to search for specific data by entering input in the field.
When and how to use it
Use the search component to help users find data. For example, in connection to pages growing in size and complexity. The search component might not be necessary where there are limited amounts of data.
Placement
Place the search component where users expect to find it. There is no correct way where to place the search component. Normally the user might expect a search field to be placed in the upper right corner, however, depending on the page and its context the placement can differ.
Behaviour
Functional or decorative?
The component can be implemented in two different ways, functional or decorative.
The functional way

A button is placed to the right in the input field. Use the functional way if the search action will lead to a specific search result. This button should be clickable and have its own states.
Specifics about the button:
Use the tertiary variation of the button
For more information about the buttons states, go to Button
Use enter as a shortcut for the search action.
When a user has initiated a search (enter or clicked the button) the search button is replaced by the close button variant. Clicking the close button clears the text and returns the button to the default state of the tertiary variant. The focus moves to the input field.
The decorative way

The search icon is placed to the left in the input field and is not functional, just decorative. Meaning the search icon is not there to be interactive.
Use the decorative way when the search field is accompanied with auto complete.
For mobile or tablet use
Although the user can press enter/ search from the keyboard on both mobile and desktop, the functionality of being able to search by pressing the search button should still be included if using the field with an interactive button. Rather let the potential accompanied functionality of the search field decide whether you need the search field with a decorative icon or an interactive button.
Smart search
It's preferrable to use the decorative search when auto-complete is being used.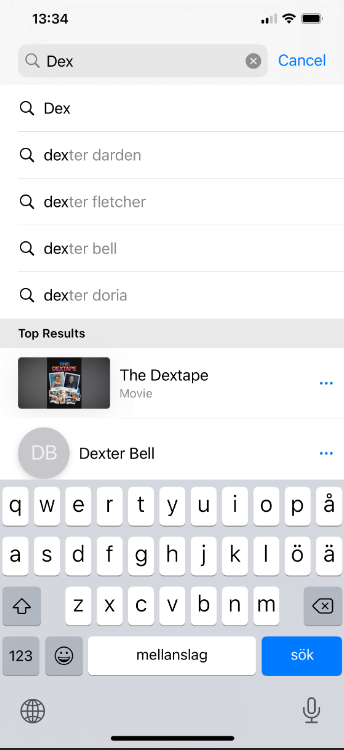 Above: Examples of smart search, from https://material.io/design/navigation/search.html#expandable-search
Do's and don'ts
Do
Place the search component where users expect to find it.
Consider whether you need the input field containing a decorative search icon, or the interactive search button.
Don't
Don't use the search component where there are limited amounts of data