Stepper
A stepper makes it easier to input values that are in a narrow range.
Short description
A stepper is useful if you create a form with numeric inputs that are in a narrow range.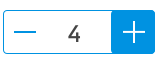 When and how to use it
Use it for entering numeric values quickly in a form, for example; how many children in a family.
Behaviour
The inserted value can be increased or decreased by "1" or an other configured digit via the "-/+" buttons. The user is also able to increase or decrease a value by the arrows on the keyboard. Up and Right is for increasing, Down and Left to decrease.
Do's and don'ts
Do use it for small values, such as amount of children in a family.
Do not use it to enter years or salary. A dropdown has a better usability.
Specification
Height: 2.75 rem
Text: 24 px, medium

States
Normal: Grey 400 (border)
Hover: Blue (border)
Selected: Dark blue 2 (border)
Disabled: Grey 300 (border), Grey 200 (filled)