Input field
Input fields allow users to add and edit text.

Short description
Input fields typically reside in forms, but can appear in other places like dialog boxes and search. Input fields can help users validate input and fix errors, they can also autocomplete words and provide suggestions.

Autocomplete
Input text can be used with autocomplete to help users who have limited literacy or who write in a foreign language. See Autocomplete.
Labels
Input fields labels display the type of input a field requires. Every text field should have a label (a few exceptions exist like search-fields). The label can be placed in different positions, but should be connected to the input field and always be visible. Having the label above the input field can take up a lot of space.
Static data
Make static data stand out from its' label header.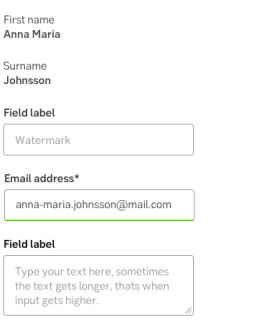 Placeholder text
Placeholder text is placed within the input field and disappears when the user starts entering text. Use only when absolutely needed as it often adds confusion. If users need the information after entering data, field instruction should be used.
Field instruction
Placed between the label and field, it helps the user with instructions for what to enter in the field or how to interpret the label. If multiple form-fields are placed horizontaly the instruction is placed under the field to help alignment of the fields.
Error handling
When input isn't accepted, text fields can display an error message below the input line, with instructions on how to fix the error. Until the error is fixed, the error replaces the helper text.
An error message should appear on a single line, if possible.
An error message is preceded an error icon to make the error state more distinct to colorblind users


Optional fields
To indicate that a field is optional, display the word "optional" in parentheses next to the field label. Generally strive for only having fields that we actually need the user to fill in. If it's not needed, then it can perhaps be removed from the form.
Character or word counter
Use character or word counters where there is a character or word limit.
Right justified
Displayed as a ratio of characters used and the character limit (formatted as: characters used / character limit)
Formatted inputs
Input fields can be formatted to indicate the types of data a field accepts, using placeholder text. The inputted text is also formatted. Characters can be formatted using:
Grouped characters
Prefixes and suffixes
Password disguise
Input fields - with all states
Free text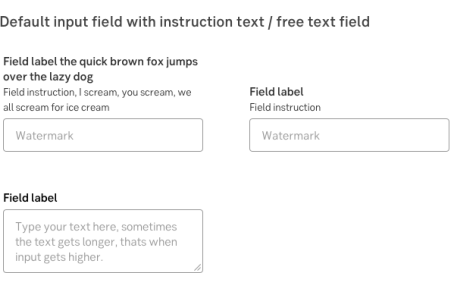 Do's and don'ts
Do
Feel free to use a smaller size of input fields in tables and lists (see the specification for details).

Don't
This variation with a grey block to the right in input fields and dropdowns is not standard SEB design.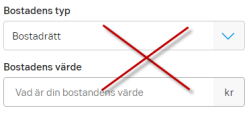 Specification
Input field - standard
Field label: 16 medium, line height 20
Field label disabled: 16 medium, line height 20, Grey 400
Field instruction: 14 regular, line height 20
Field instruction disabled: 14 regular, line height 20, Grey 400
Input field text: 16 px, line height 20
Error indicator: 2 px height
Error text: 14 regular, line height 20, Dark Red 1
Field label without input field: 16 regular, 20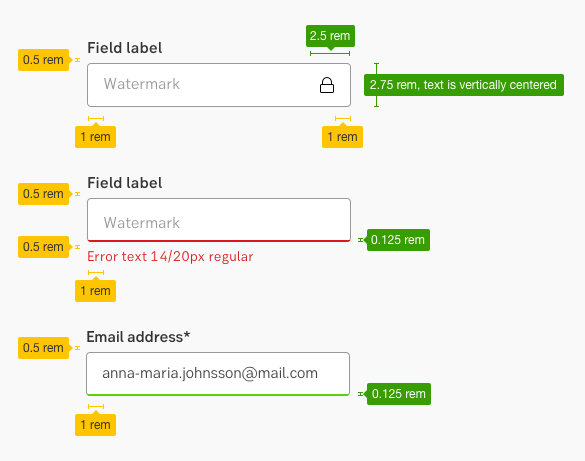 Input field - small
A smaller size of input fields are used inside tables and lists.
Input field
Height: 2 rem
Font-size: 1 rem
Padding left/right: 0.5 rem
Label is hidden and headline in column will be used for description instead.
Table cell
Height: 3 rem (when no validation)
Padding top/bottom: 0.5 rem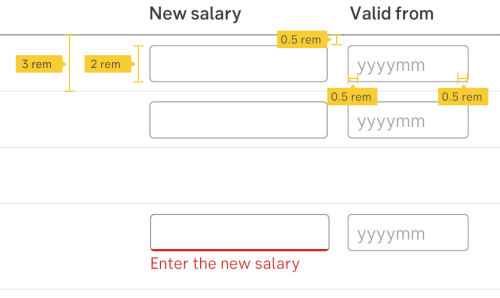 States
Normal: Grey 400 (border)
Hover: Blue (border)
Selected: Dark blue 2 (border)
Disabled: Grey 300 (border), Grey 200 (filled)

Error state

Labels
The same copy principles can be used for labels, radio button texts, choices in drop-down menus, headings, page titles, navigation texts, link texts and other short texts.
Use informative words
The texts should be clear and informative. Avoid information-poor words such as information, important, welcome and regarding.
Single words or complete sentences
The texts should be as short as possible. Labels can, but need not, be complete sentences. In some situations, we use the query format to push the information that customers need to leave, such as What do you want to buy? How much do you earn? How do you get your main income? etc.
Skip the verb in simple labels
In the label itself, you do not need to use verbs such as Enter, Fill in, Write or Choose that tell the customer what he or she is supposed to do. For instance, write Recipient's name instead of Fill in the recipient's name. And when the recipient's name is displayed in a summary, it is sufficient to only write Recipient.
Field instruction
The field instruction, or field help texts, are used to explain input field labels, column headings and subheadings. Ideally, the short text should be self-explanatory so that no field assistance is needed. Use field help only when something needs to be explained that is not clear from the label.
Explain what the customer needs to know to fill in the field or understand the data displayed. Be brief.
Placeholder text
Distinguish between the label, the field instruction (help texts) and the placeholder text. The label tells you what to enter, the placeholder text how to fill in, what format to use or why the customer should enter the data.
You can use placeholder texts for instance showing a pattern that the customer can use, such as YYYYMMDDNNNN when logging in or how a phone number might look like, Example 070123456.
Don't
Do not replace the label text with placeholder text, they have different purposes.
Do not repeat the label text in the placeholder text.
Do not use too many characters.
The placeholder text must not be crucial for the customer to be able to fill in the information.
Error handling
There is not much space adjacent to the input field. Therefore, provide a constructive suggestion on how to solve the problem instead of telling what the customer has done wrong.