Colours
Colour is versatile; it's used to express emotion and tone, as well as place emphasis and create associations. Colour should always be used in meaningful and intentional ways in order to create patterns and visual cues.
Colours
Green

Green #60CD18
Dark Green 1 #45B400
Dark Green 2 #379D00
Yellow

Yellow #FFC500
Dark Yellow 1 #FFB400
Dark Yellow 2 #F8A000
Purple

Purple #673AB6
Dark Purple 1 #4F2C99
Dark Purple 2 #3F2587
Red

Red #F03529
Dark Red 1 #D81A1A
Dark Red 2 #BB000C
Blue

Blue #41B0EE
Dark Blue 1 #0092E1
Dark Blue 2 #007AC7
Greyscale
Use any shade of grey to support our primary colours.


Use of colour
When using colours choose primary colours (top row in Swatches) first. If more colours are needed, use tint colours (the other rows).
For interactive elements it is recommended to use any of the blue colours.
Links: Dark Blue 2. Read more about Inline links here
Default text colour: #333333. More about Typography here
Background: White or grey #F1F1F1
Don't make colours lighter except for in graphs. For graphs it's possible to use several different colours.
Colour contrast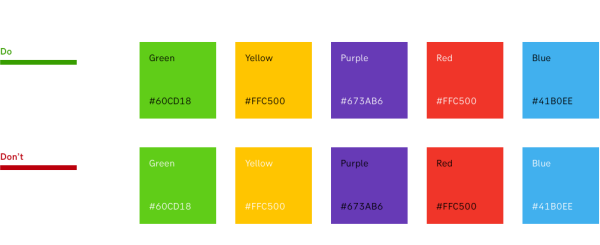 Make sure to have good contrast between text colour and background.
Don't use white text on a light background, because of accessibilities issues, see image above.
Here is one example of a colour contrast checker: https://webaim.org/resources/contrastchecker/
Examples of use of colours
Hook-guid-act
(1)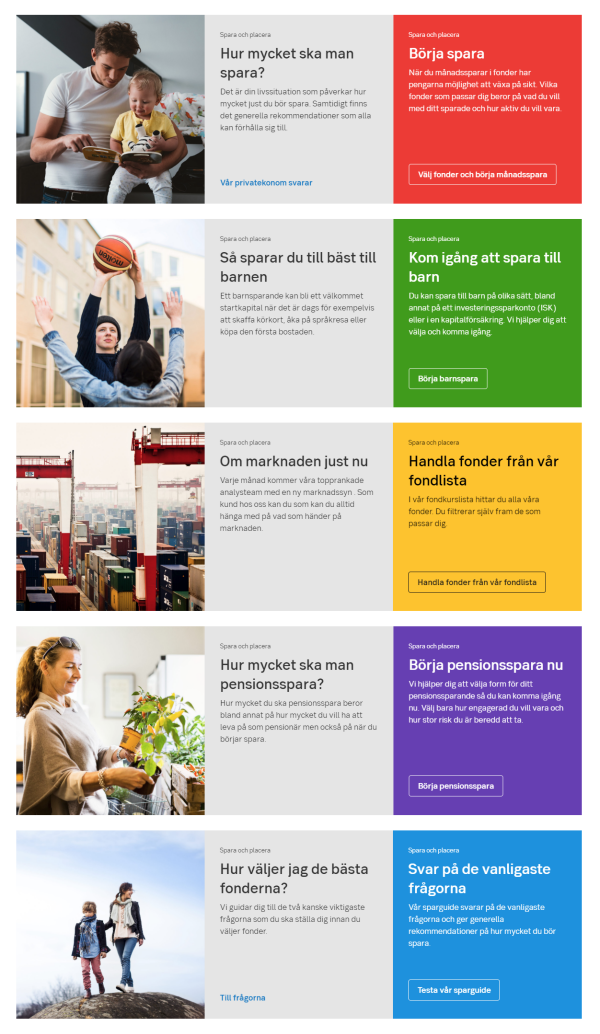 (Above) The component Hook-guide-act in several colours, with a ghost button on coloured background.
Concept sketches (2017)
(1)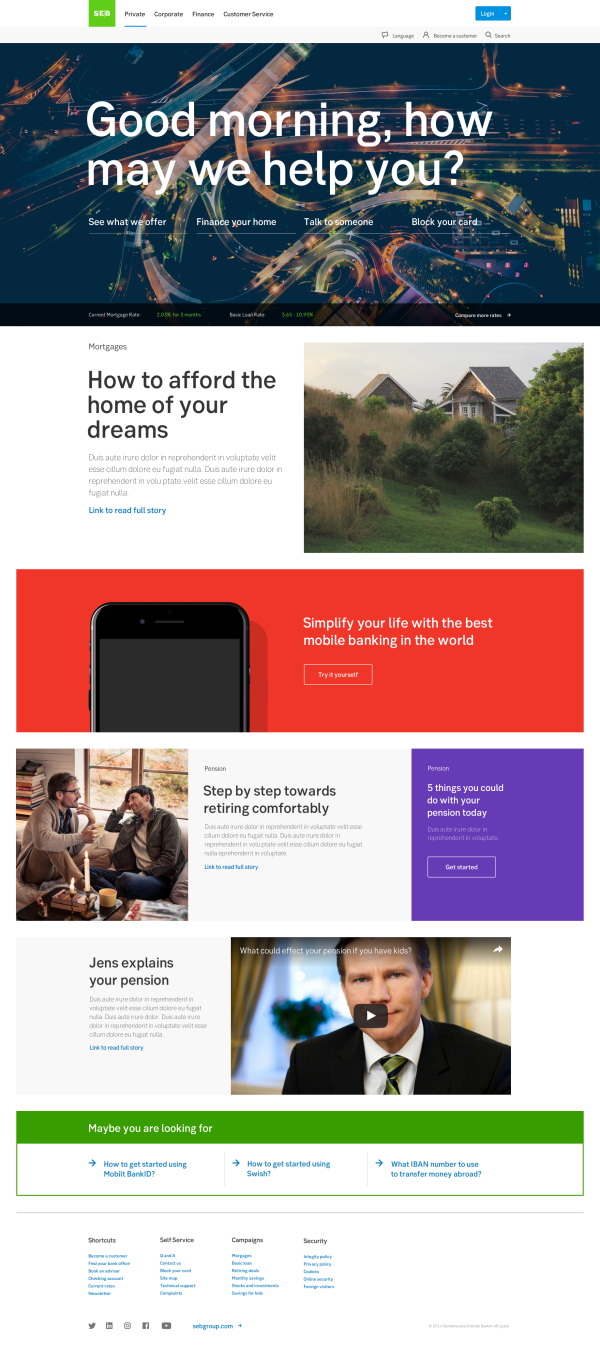 (2)

(3)

(4)

(Above) Sketches from the concept work that was done in 2017 when the (then) new design was tested on our public websites.
Q. Different contrasts?
The guideline on contrasts for text on coloured backgrounds differ in Brand Manual and Design Library.
Design Library says: use black text on Green, Yellow and Blue. Use white text on Purple and Red.
Brand Manual says: use black text on Yellow. Use white text on Green, Purple, Red and Blue.
Is this correct and if so, why is this?
A. Yes, you are correct!
Well done for noticing! Yes, Design Library is mainly for digital purposes and screens requires higher contrasts. If you are interested, see our page about Accessibility or go to WCAG and read more