Navigation
Main difference from before is that we strive for a shift of focus; moving from hierarchical navigation, to a content navigation approach.
Navigation overview
These are the components that together support our users' ability to navigate; content navigation, main navigation, bread crumbs, global functions, page functions and footer links.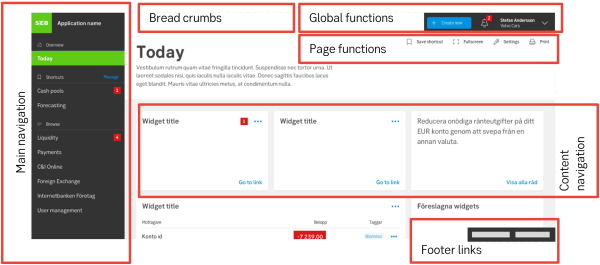 Content navigation

Users will always be more prone to navigate by clicking their own data, than the navigation provided as site hierarchy.
Individual focus
Personalized framework
Glanceable for efficiency
Proactivity, how might we assist users in understanding data and guiding them further.
Widgets/modules. What is suitable to extract to a widget from a module to give good overview and draw user attention to the module.
Overview-pages may aggregate overview-widgets. The owners of the overview pages need to manage the user needs for the area.
Main navigation
The main navigation of internet banks consist of the overview (start page), the users personal bookmarks, and last but not least the sites hierarchical representation under browse.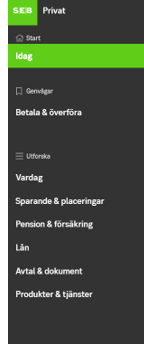 Overview
This is the landing page of the site. Should give a good overview of the current financial situation and guide users to the items that need attention from this visit. In a further future we may have more than one overview. It might be possible to build own custom pages or projects consisting of widgets and tools for a particular task (i.e. to assist in a complex task like buying a home)
Shortcuts
Users may add bookmarks to the pages/features they use the most or want easy access to. This gives the user control of what she thinks is important in the bank.
Browse
Every site needs a backbone of the hierarchical structure. This gives a sense of structure and also makes it easier to find functions related to each other.
Breadcrumbs

May be incorporated or not… Perhaps they serve a higher purpose during co-existance than in the future.
Global functions

The global functions group features that are available on all pages and is always the same.
Profile select
The profile of a user is a centralised feature that gives a clear sense of being logged in displaying the users name.
Under the profile a number of features kept and may include items like:
Personal settings
Change profile
Logout
Notifications
Here users are notified about items they need to act upon. Some may feel like nice to know, but it may be important for legal reasons to make sure users see this message.
Looking into the future, it may also hold a feed of everything that happens with your finances and gives you an update that's easily glanceable just like the updates from Facebook.
Quick actions
Here the users may find actionable items that they may use often. It's a quick central accesspoint to items like; New payment, change limit, add authorization.
Page functions

These are features that relate to the current page.
Add shortcut
This control is active on all pages that may be added as shortcuts. After clicking this the page is added to users bookmarks.
Edit page
When we have pages user are allowed to update this opens up the page for editing. Editing pages may be used for adding or removing widgets.
Focus mode
When users are presented with a page where they actually want to stay and work with they might feel distracted by all general content (main navigation, global functions etc). By activating the focus mode everything but the pages content is removed from view so users may focus on the work to be done!
Footer links

When all else fails users will start searching for assistance in the footer. We want to use it as a global safety net for the users.
Contact
One stop shop for finding the ways of contacting SEB. This may also include secure messaging.
FAQ/Help
Still to be explored! May we add features like SoFi or Aida to guide and assist!?