Aggregated pages
Pages on the top of the hierarchy such as start page and theme pages that summarise an area such as savings, liquidity, finance, etc. These pages don't really have content of their own but show snippets of information leading the user to pages further down in the structure based on interest or attention.
Base pages
Pages where we have the real content. The content lives on module-pages, product-pages etc.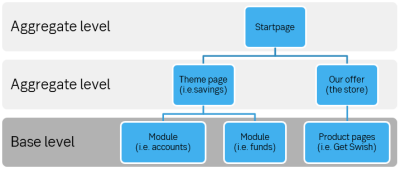 Page types
Start page
The startpage is the first view a user is greeted by after having logged on. This page mainly consists of widgets from all sections of the site and covers all/the most important aspects of the users arrangement.
Examples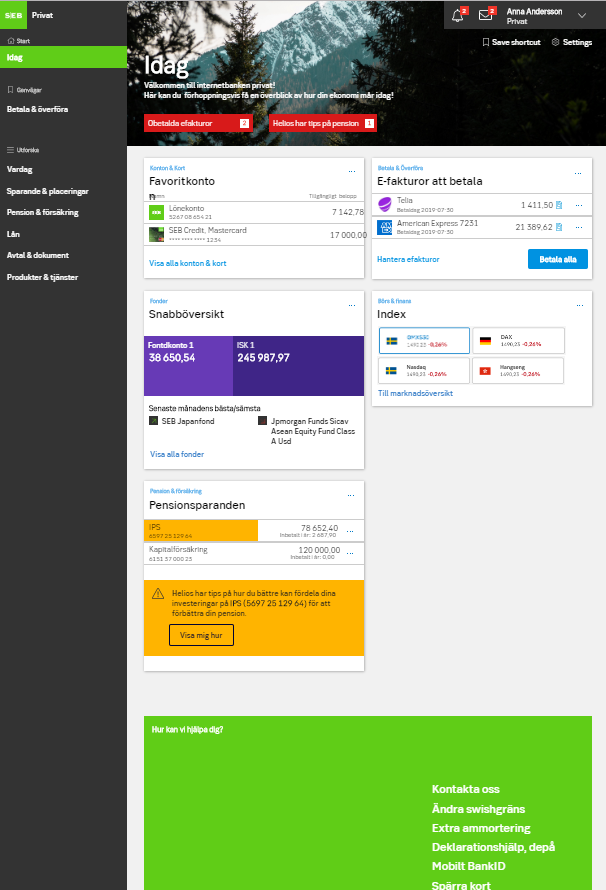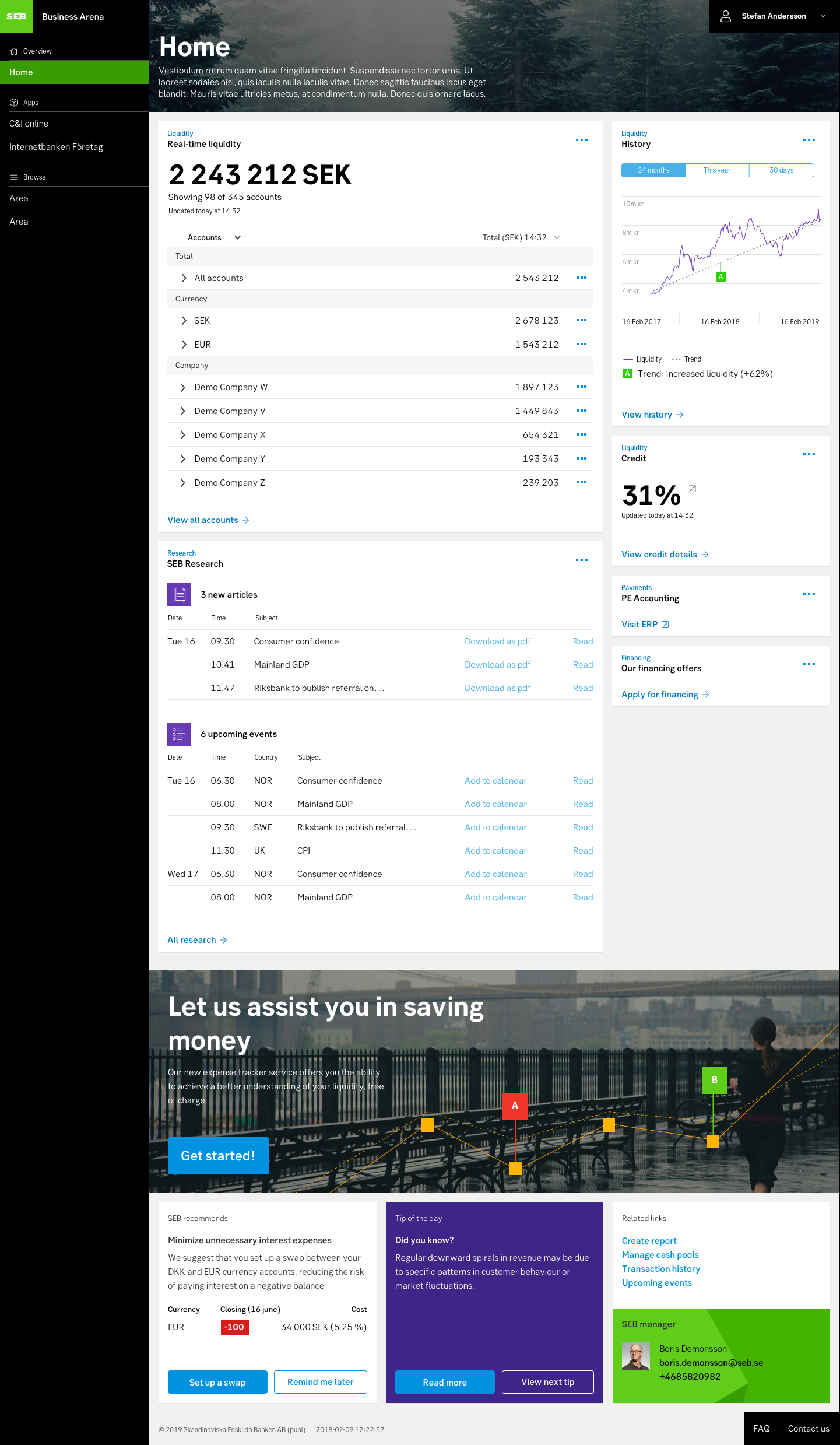 Theme page
Theme pages are very similar to the start page - the difference is that they holds only widgets of a certain section.
Examples
Examples might be savings, liquidity, finance, etc.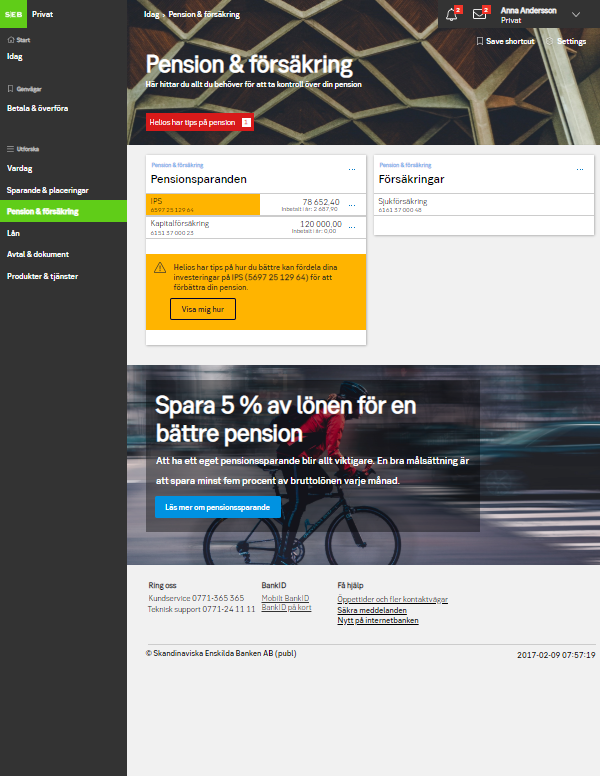 Module page
This is obviously where the module lives. It holds all pieces of information containing to one subject. The module takes up the most space, but under the module widgets might be placed to support the content in the module.
Examples
For example: accounts, funds, loans, liquidity.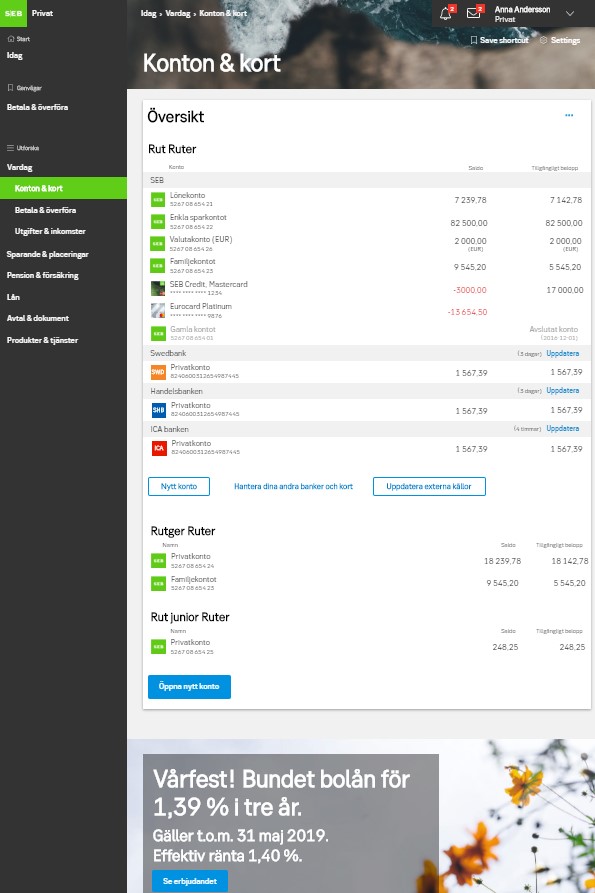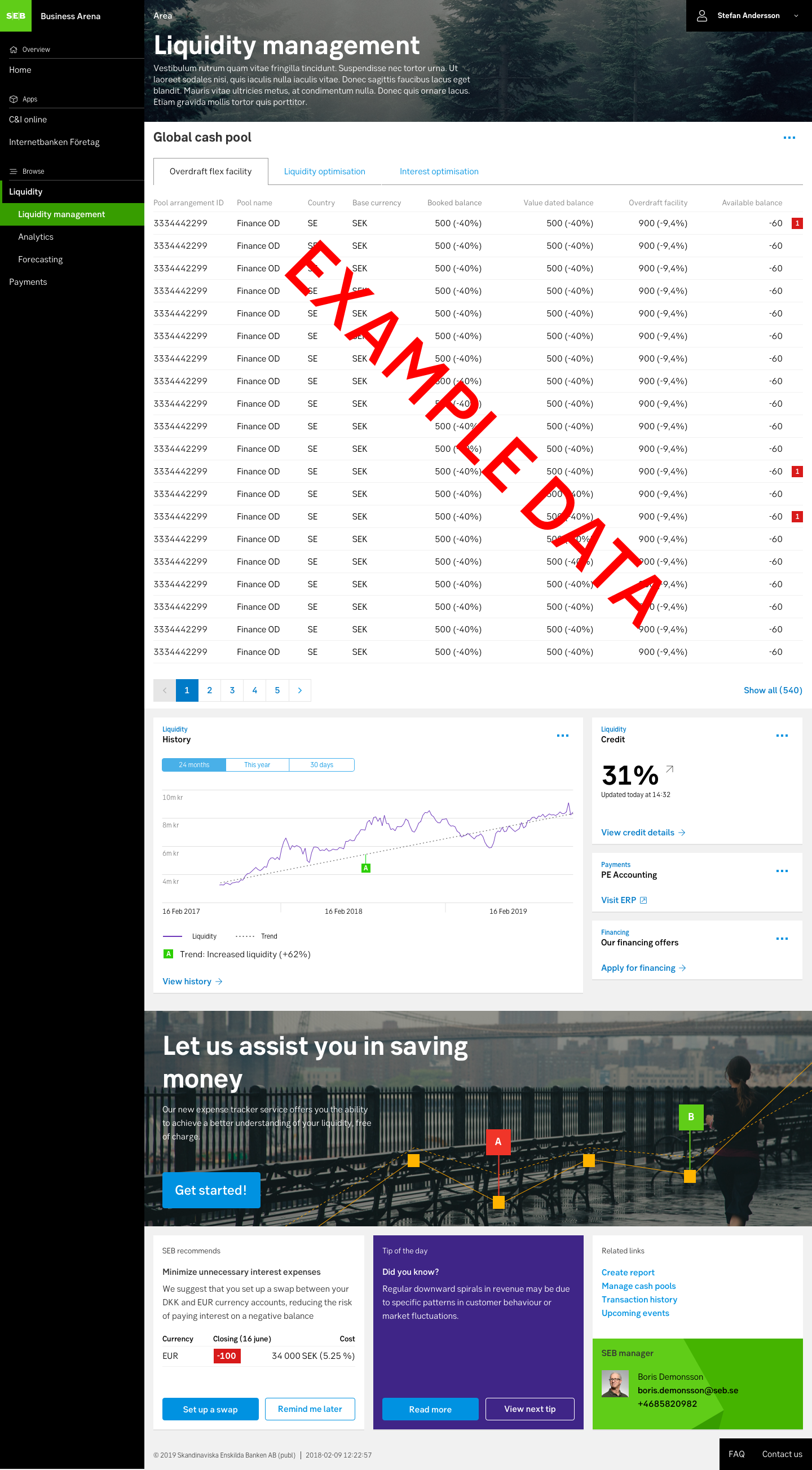 Legacy page
The legacy page is imilar to a module page but with the "module" as an iframed part of an old or external system. This may have implications for responsiveness and how it can interact with the rest of the site.
Please note that pages (from IBF or C&I Online) that are not fully responsive hold the full page width until the 1920px breakpoint.
Examples
Desktop and mobile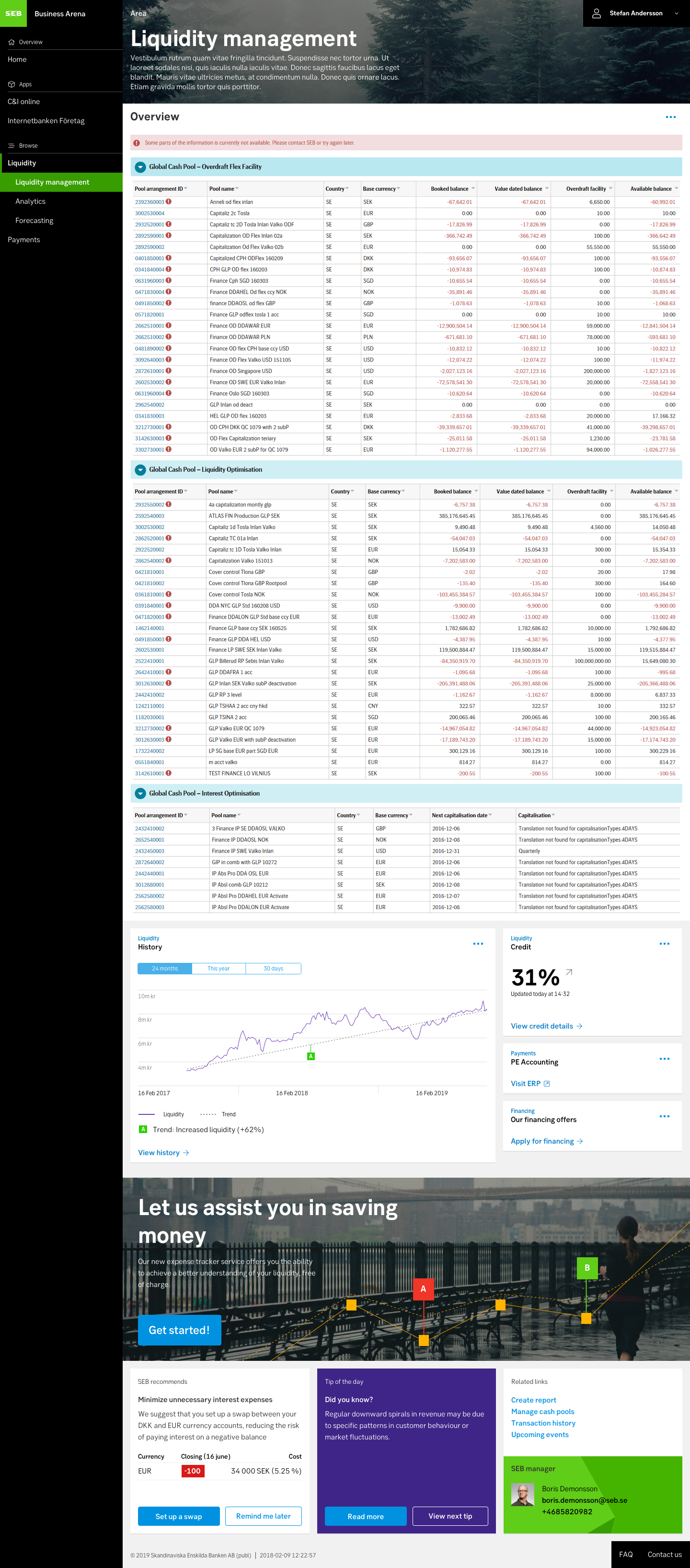 Product offering
Product offering is our store and shows what product SEB can offer you as a customer. This page is not specified at all yet. In the current internetbank it is basically a site-tree with links to all products.
Example
Financing products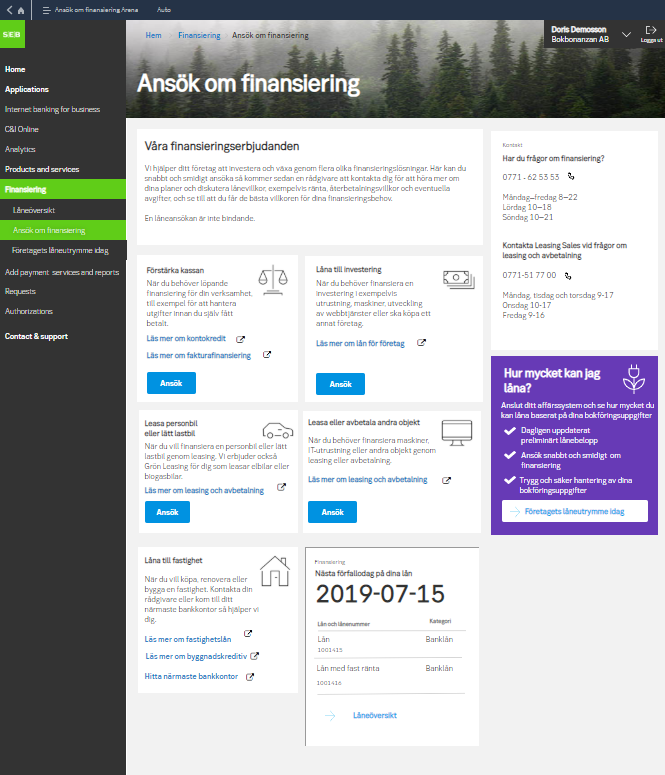 Product page
The product page aims at both selling and explaining the product. It is divided into sections, starting from the quick selling points and continues with sections for emotional, educational, details, frequently asked questions or whatever details are needed to clarify the product.
Almost every section holds a call-to-action enabling the user to buy/get the product.
Examples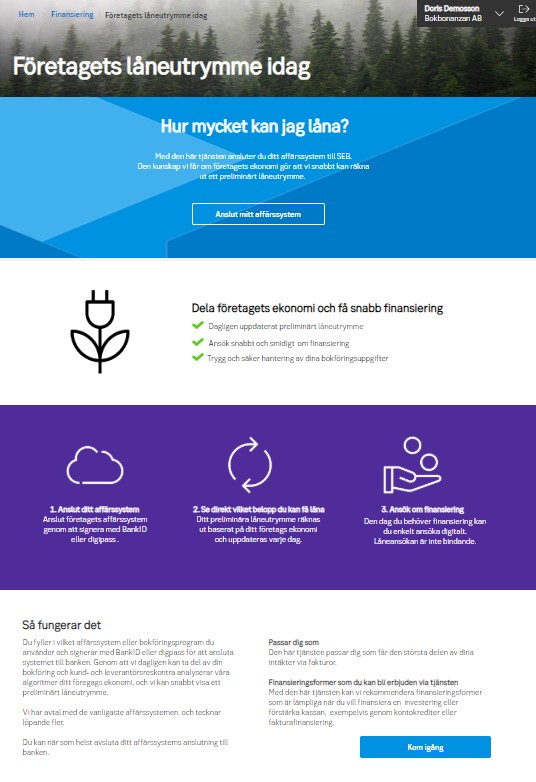 Internal fields on a customer's page
Sometimes the employee needs to make internal changes (which are not shown to the customer) on a customer's page. Nexus plans to create a template for these internal fields, so that all micro-frontend pages will have the same pattern in the shell. When the template is ready, we'll update it here.