We have a number of common shells available for our customers and users from different segments. This is not a complete list and others may be added later.
For each channel there are local guidelines and contact people. The long term goal is that the local adaptions of the rules should be as few as possible.
Current channels
Internetbanken Privat
Internetbanken Limited
Business Arena
Internetbanken Företag
Nexus
Internetbanken Privat
Internetbanken Privat - IBP (Sweden) is aimed at personal banking and private banking. It also includes owners of private business of the type "enskild näringsidkare" who has the product "Enkla firman".
The larger parts of this channel was built in the 1990's but has since received several facelifts. One large in 2013 and one smaller in 2017.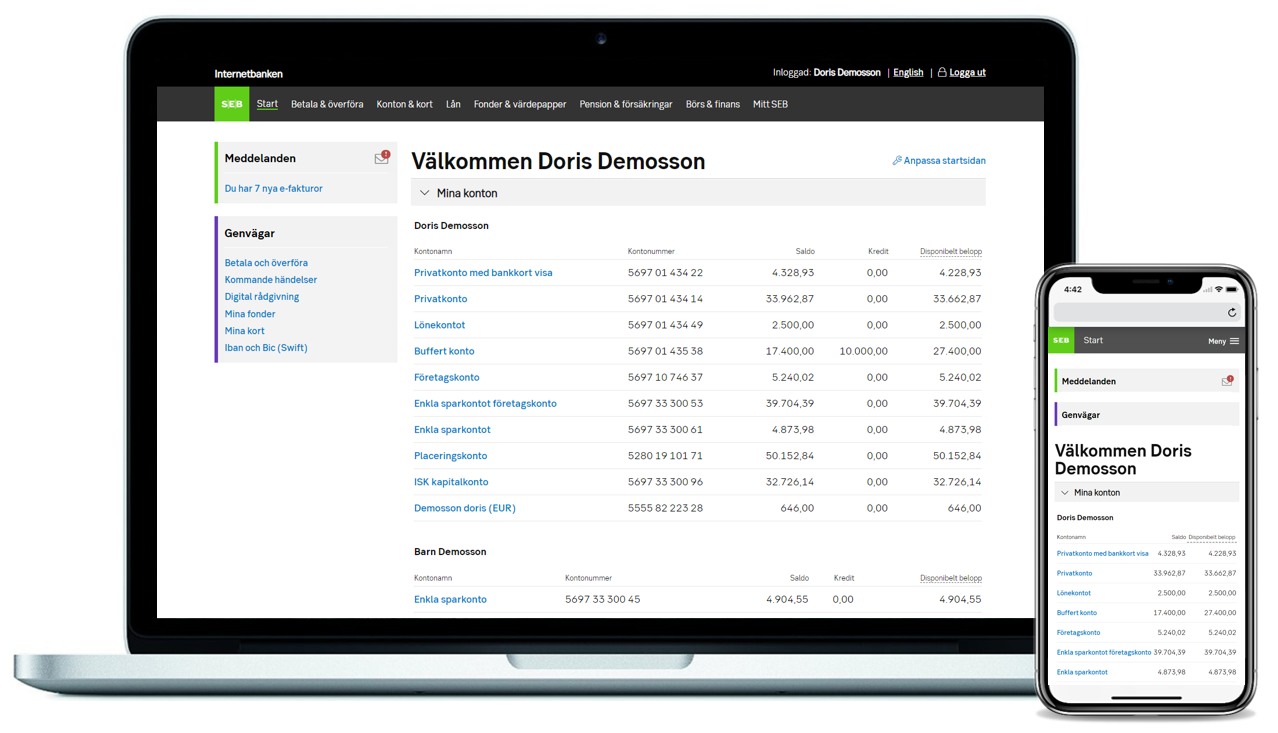 The design of the site currently follows the interaction design specified in the old "Interaction design manual" (connections page – only available inside SEB). All new major updates are made through the addition of microsites to prepare for switching to using the new shell with a completely updated design.
If you are planning on adding a new feature to IBP you must follow the business contract (connections page – only available inside SEB).
Contacts
PO: Camilla Bergquist & Jan Wilsby
CX: Conny Andersson
Channel design lead: Jesper Andersen
Arch: Ivars Zarin
Co-existance old/new
Short term we'll be adding new pages in micro sites and add them inside the old internetbank. New pages are striving for new design but adapting to fit old framework.
When we have a larger number of micro sites available, we will shift work effort to moving to a new shell (similar to Business Arena). Here the new micro sites will fit better and we'll incorporate old pages as "legacy pages". A lot of work will focus on building widgets to achieve out new theme- and start pages.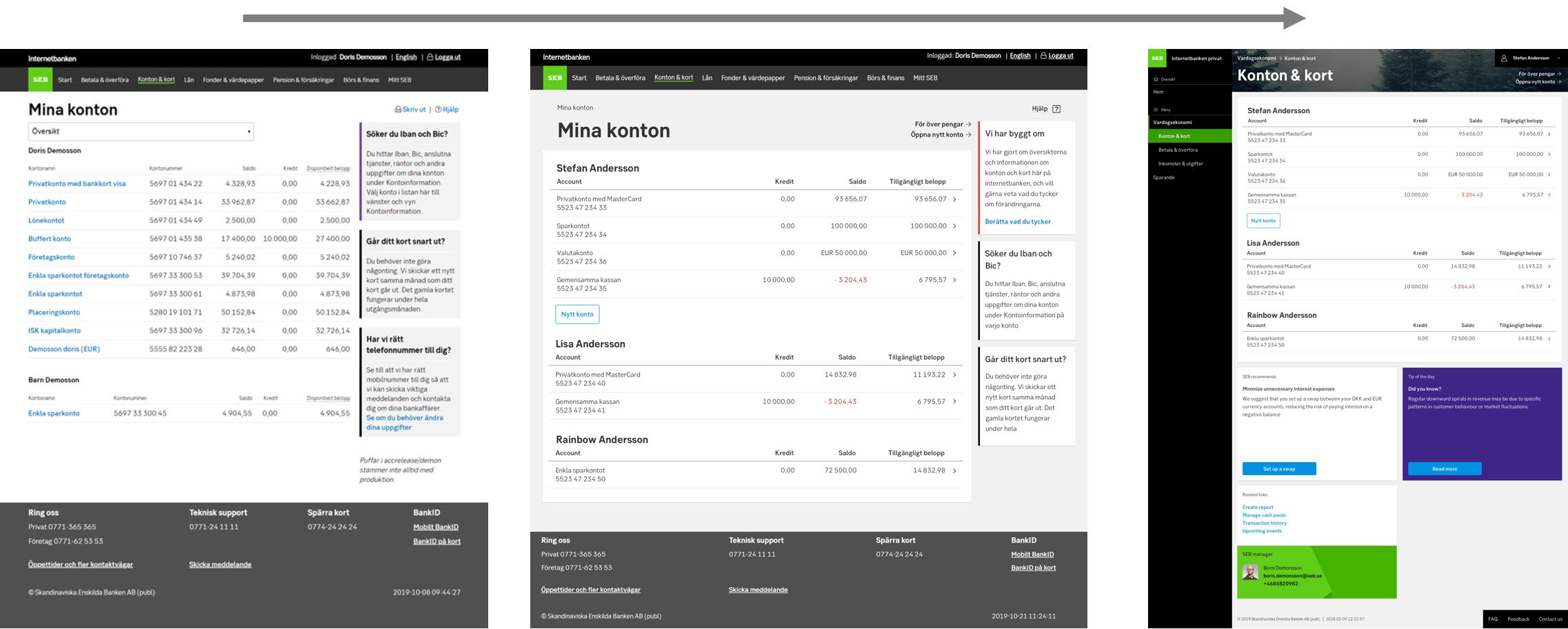 Current adaptions/deviations
Grid
Since we are still in old IBP new microsites need to keep their content inside the sites widths. But when adding new pages we use the 12-column grid but inside the old container.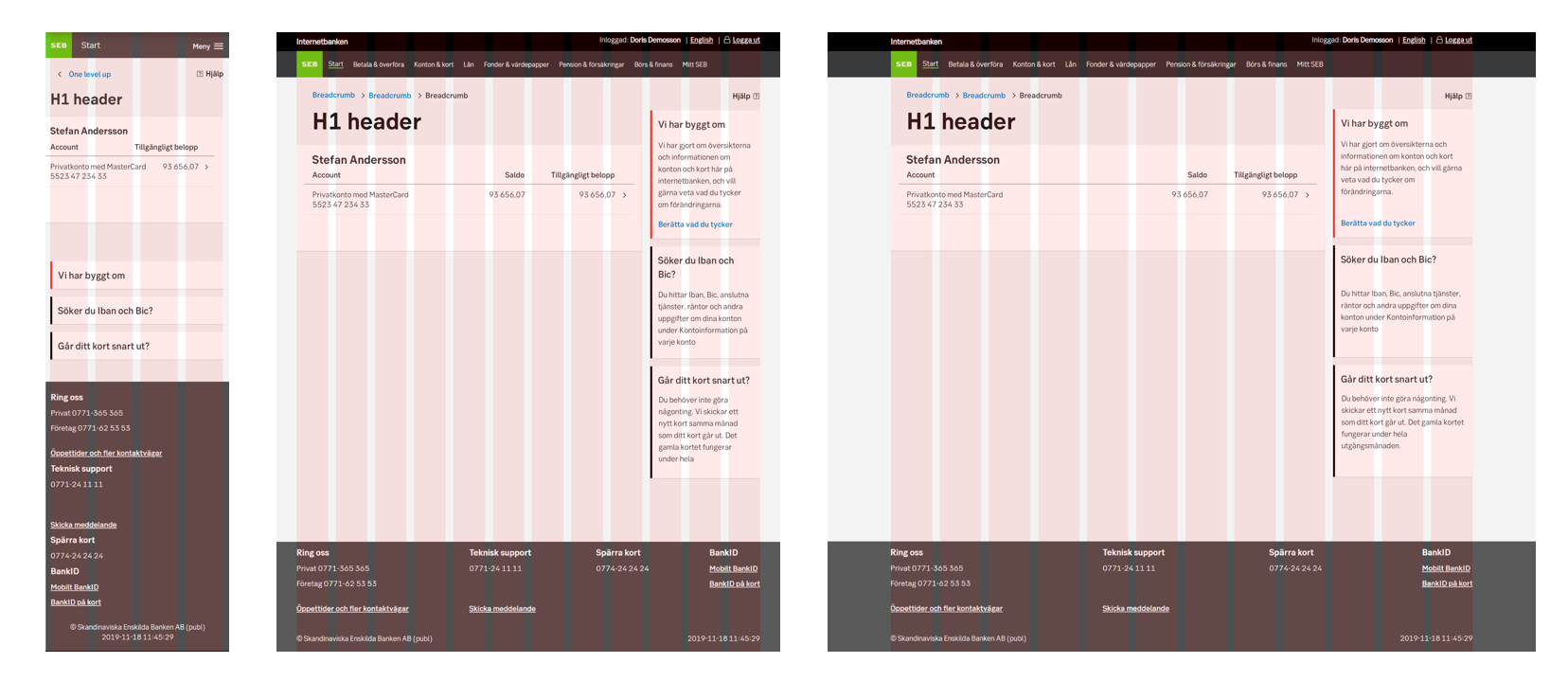 There are page templates available for Sketch.
Sales/communication
Try to keep old "puffar" so we can still keep communication with customers (se images under grid). We will progressively move to publishing these blocks via Epi and start using this as zone 3.
Internetbanken Limited
Internetbanken Limited - IBL (Sweden) is for users who have a connection with SEB as a private consumer, but don't have the agreement to use Internetbanken Privat - IBP (Internetbanksavtalet).
This covers for example users that have a pension plan through Life or perhaps a started loan-application, but are not yet customers at the bank.
This channel is only used as a technical platform.
Contacts
-
Business Arena
The main channel for corporate users. Currently also works as an umbrella-site connecting the old corporate internetbanks under one common login. From here the customer can reach for example IBF, C&I online and Trading station, as well as new micro frontends.
If you are planning on adding a new micro frontend to Business Arena, please check out Business Arena's site in Connection (Overview - Business Arena) where you can find answers to information regarding the business contract, links to tech contract and answers to commonly recurring questions.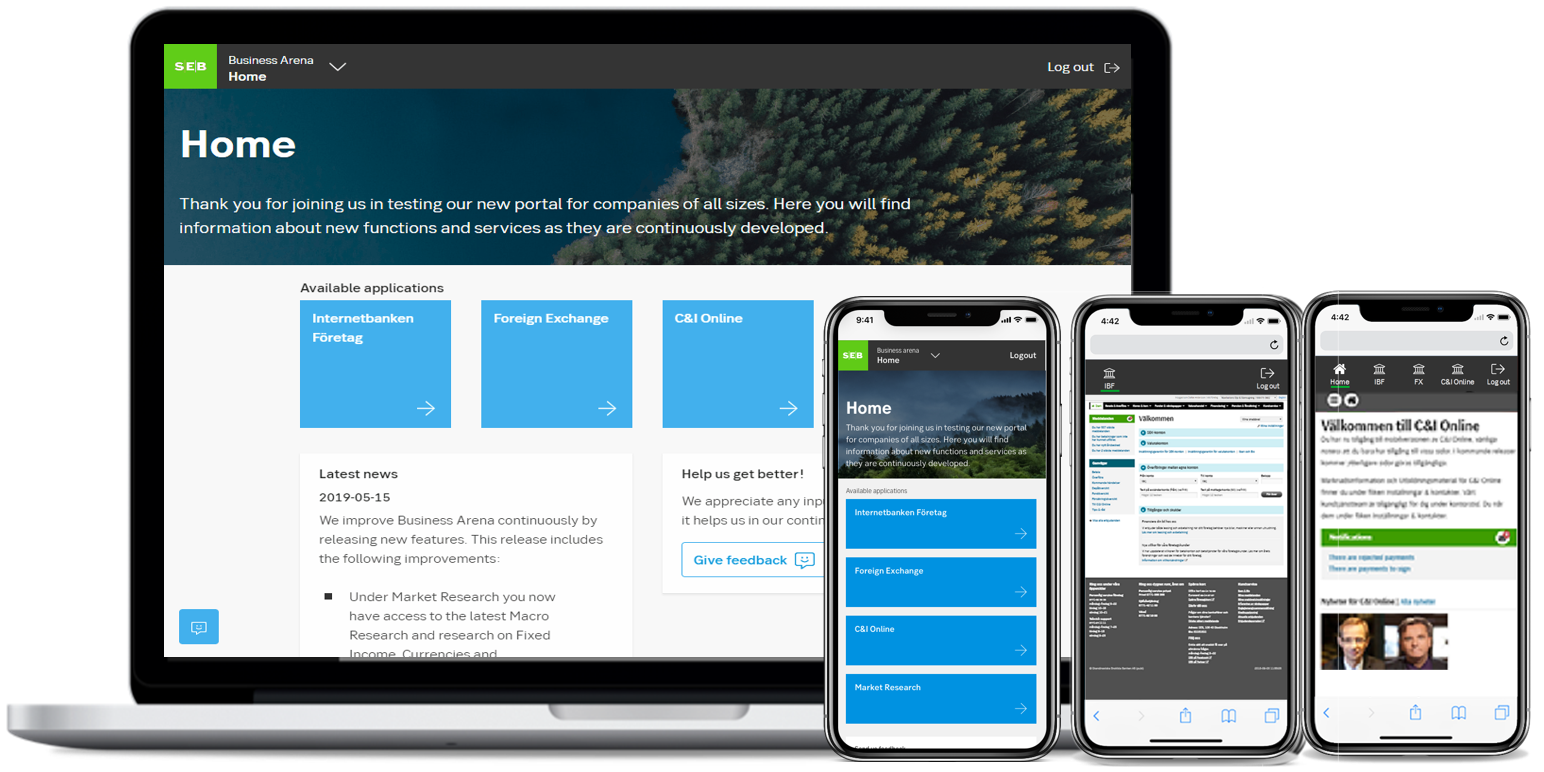 Contacts
CPO: Anna Runnquist
PO: Stella Eriksson and Fredrik Wahlman
CX: Susanna Christensson and Ola Grönlund
Channel design lead: Jesper Andersen
Arch: Niklas Ståhle
Internetbanken Företag (IBF)
Internetbanken Företag - IBF (Sweden) covers business users of corporates belonging to the C&PC division. It's main focus is companies that are small or medium sized. New development should be made in Business Arena.
C&I Online
This is the main internetbank for Large companies belonging to L&CFI division. New development should be made in Business Arena.
Trading station
This is an internetbank focused on trading and currency exchange. New development should be made in Business Arena.
Nexus
The internal channel
In order to enable an efficient and scalable internal channel, we aim at building a shell based micro front infrastructure. This ensures that the product focused tribes can act quickly and decisively in their respective end to end areas with great autonomy. Nexus will enable better and more efficient solutions for our employee's that are working close to customers.
Business outcome hypothesis
Enhanced user experience & Internal NPS
Enable transformation from legacy systems
Shorten time to market by frequent releases
Enable new business opportunities in new tech & UX
Reduce the operational risk of lacking Säljstöd skills
Reduce development costs by common components
Support target architecture to harmonize the internal channel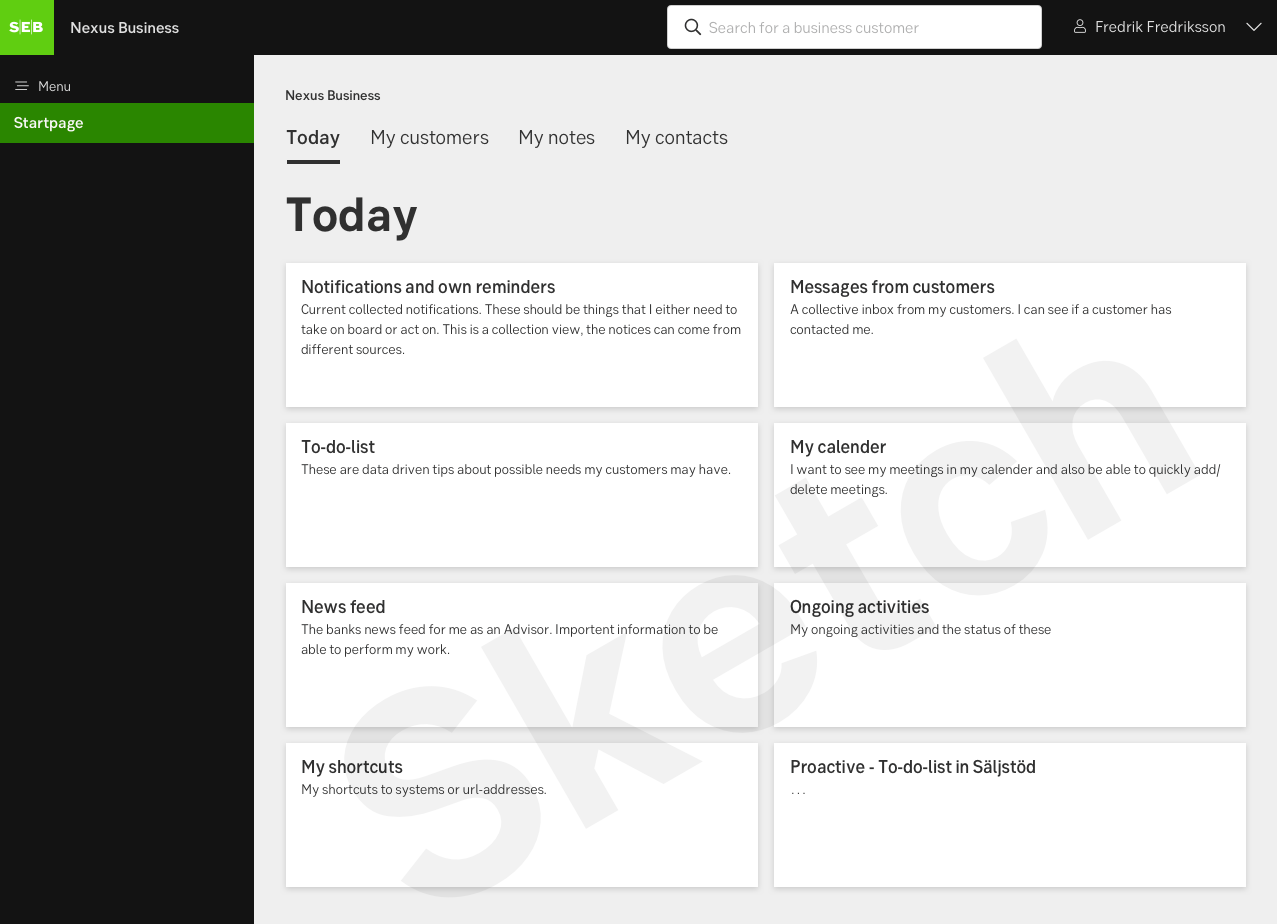 The shell has a Single Sign-on solution, which means that a Nexus authorized employee is automatically logged in when he/she logs in with the s-id on a desktop/tablet/mobile.
If you are planning on adding a new feature into Nexus, you must follow the Business Contract
Contacts
CPO: Robert Skoglund
CX: Kristina Kernell
Channel design lead: Jesper Andersen
Tech Lead: Mats Utterström
Architect: Niklas Ståhle