Aggregated pages and sub pages
There are two groups of pages; aggregated pages and sub pages. Pages on the aggregated level are at the top of the hierarchy such as the start page and theme pages that summarize an area and give the user an overview. Pages on sub level is where the real content is.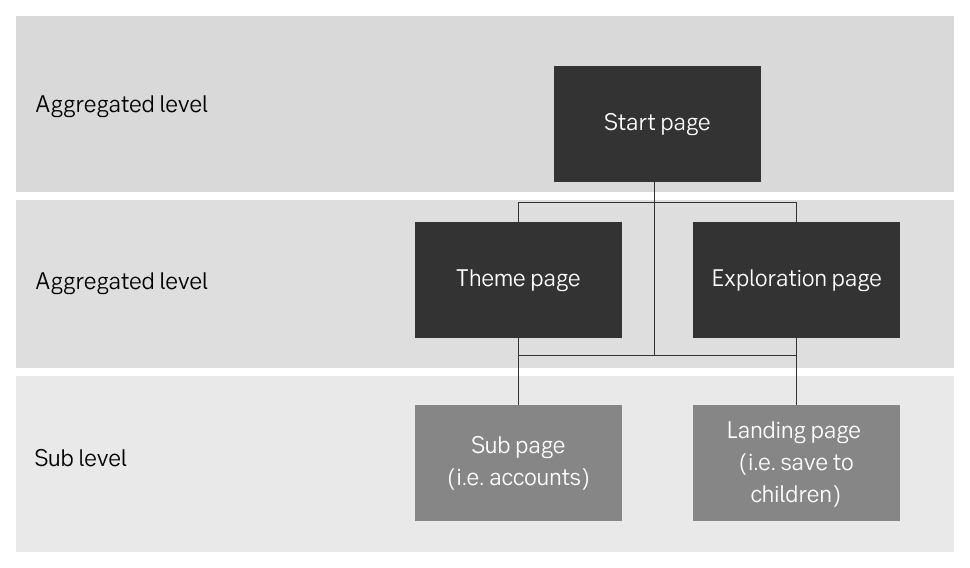 Page levels
The difference between start page, theme page and sub page
Start pages
The start page is an aggregated page:
Contain widgets from all different sections of the site.
Focuses on giving the user an overview of their whole economy and engagement.
From here the user can navigate both to theme pages and directly to sub pages.
Theme pages
Theme pages are also aggregated pages:
Very similar to the start page but holds only widgets from a certain section.
Focuses on giving the user an overview of their engagement within a certain area.
Examples might be savings, liquidity, finance.
Note that you do not need to have a theme page for a certain area, it should only be there if it brings extra value to the customer in terms of making it easier to get a a good overview and highlight important information to the customer.
Sub pages
Sub pages:
Where the module lives. Hold all pieces of information related to one subject.
Module takes up most space, but widgets may be placed under to support content in module.
Examples might be accounts, funds, loans.

Page types