Step-by-step
These are the steps to contribute with a new/updated component design:
Base the component on user needs and feedback.
Iterate the sketch with your team members, users, cx-coaches (see below) and colleagues.
The design must be finalised in Sketch (our design tool). Ask us for help with design details.
The component should preferable be built in any of our frameworks so we learn what works early.
Come and show the component at Component Review (Thursdays).
Describe the component.
Add to Design Library and tell the world (Ulrika does this). Done!
Do you want help?
We have two weekly meetings for feedback on design: "Component design" (Mondays) and "CX-coaching" (Wednesdays). You are more than welcome to join. Let us know if you would like an invite, or have any questions, or need help with a step: designlibrary@seb.se.
Backlog in Github
Have a look in the open Github backlog to see if the problem is noticed. If it's not there, feel free to add it. Start by joining the Design discussion in Github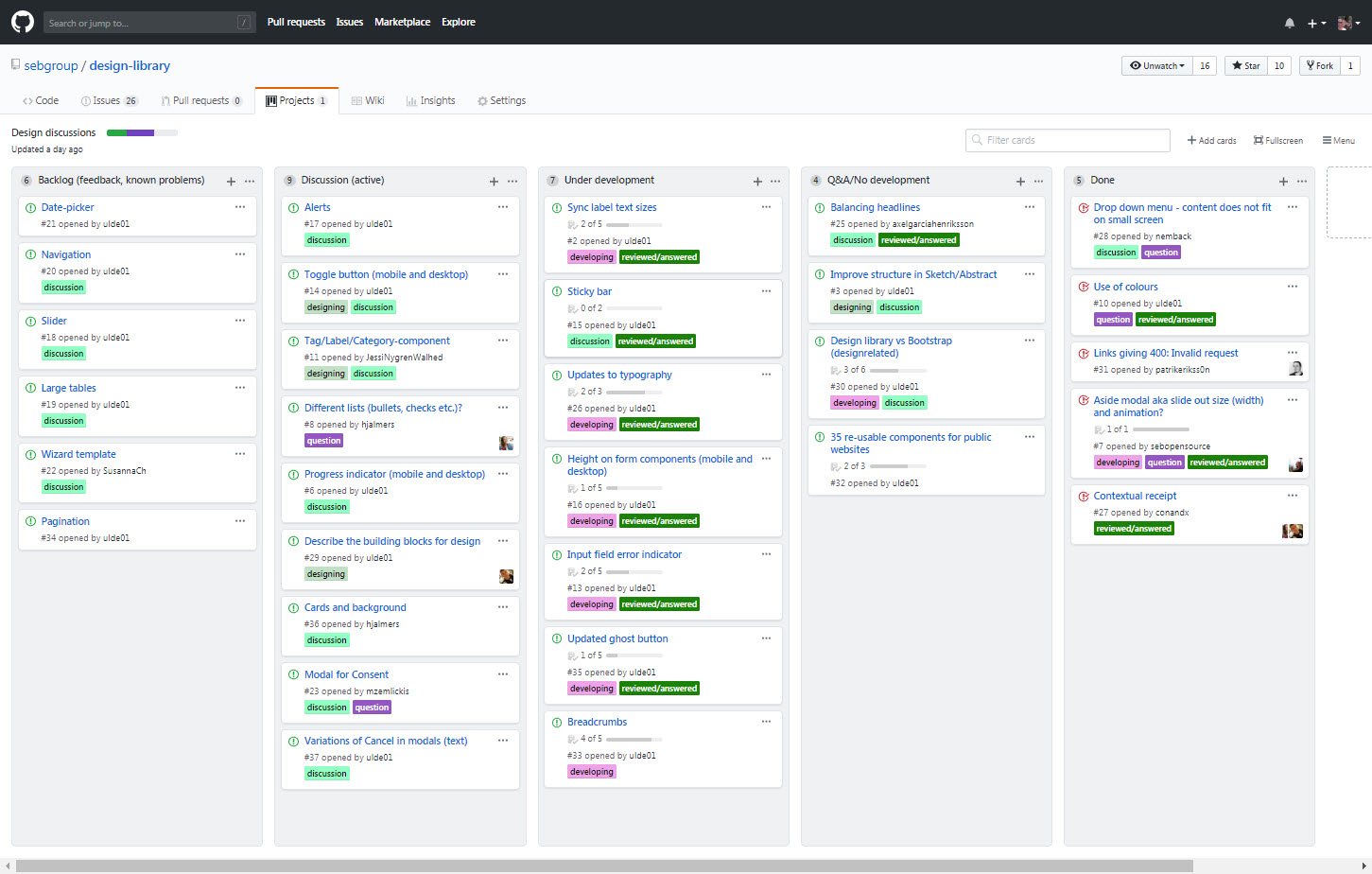 Basic design tips
Here are some basic design details that we try to keep consistant:
Describe sizes in pixel and rem (1 rem=16 pixels)
Use sizes (height, width) that can be devided by 8 px or 0.5 rem.
Use "our" icons and pictograms for shapes, etc.
Make edges of things properly square with hard edges.
If you want to communicate that there is interactivity and that the component is clickable, make the edge rounded (4 px or 0.25 rem) and use the colour Dark Blue 2. We do this to make those components stand out a little from everything else.
Check the Style section on other components for hints on spaces, sizes, use of colours.
Try to keep with the SEB style.
Designing for an internal audience?
Keep in mind that the default size setting on SEB:s computers, is "Medium - 125%". This means that anything you see from our own computers is presented 25% larger than on other computers.
/Ulrika