Expert quote
Used to highlight a quote from a block of text or an article.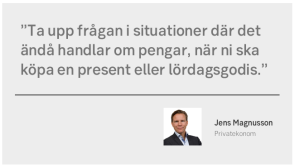 Short description
This block highlights a quote from text or a transcription of a video. The purpose is to make the content of the text/article more visible at a glance, as well as promote both the content and the source.

When and how to use it
Use this block together with text blocks. For example, in-between two of them, to highlight content. To the reader this should still feel like one continues text, with a quote.
The block can be used with or without a source for the quote, but having one is of course preferable. Without a source, it goes from a quote to a highlight. You can also add a "Tweet" button to the block. Clicking it will have the user sign in to their twitter account, and they will then get a prepared tweet with the quote that they can publish.
Behaviour
This component is pretty slim as is, so there is no big difference between mobile and desktop.
Do's and don'ts
Don't use it "just because", unless there is interesting content for a quote or highlight.
Try to not use more than one per page.
Related to
For highlights you might want to use the 'Quick facts' block or 'Eye catcher' block instead.
Specification
Background colour: #EDEDED
Height is depending on content