Design tools
Install the component libraries for our design tools.
Design Library helps you create a unified SEB experience, without having to start from scratch every time. We have created component libraries for two specific tools for designers, Sketch and Axure. You can also view designs and components via a free Sketch account.
Create a Sketch cloud account
Do you want to see designs or components without having a Sketch license? Everyone can do this if you get a free account with Sketch Cloud:
Create an account with Sketch Cloud here: http://www.sketch.cloud. If you have a SEB e-mail address, please use that one.
Contact designlibrary@seb.se to get an invitation to the "Sketch cloud component library". Let us know who you are and that you want "guest viewer access".
When completed, you will be greeted by a combined "Thank you" access to the Sketch Cloud page.
Collection of guides on Sketch Cloud
Do's and don'ts
Finally, here are some guidelines that you need to follow, both as a "viewer" and "contributor" as part of the SEB design team.
Do
ALWAYS use your SEB-address for signing up for Sketch Cloud.
ALWAYS invite SEB-addresses to view design and prototypes. All other e-mail domains will be removed and not accepted. If you need to bypass this, please contact cxcoaching@seb.se
Don't
NEVER use the sharing alternative "anyone with link"! This makes the files accessible to everyone. We have to know who has access to SEB's documents and designs.
Happy Sketching!
Sketch component library
We generally use Sketch for pixel-perfect concepts and interaction design. To use the component library:
You need a Mac computor with Sketch installed. Sketch is not part of the general product catalogue in SEB.
To be added to the "SEB components" project, contact designlibrary@seb.se to get an invitation (let us know you need "contributor" access).
You should then be able to use the SEB components directly via the "Insert / Symbols" menu choice automagically.
If you work from a PC, you can only view the components as images.
Axure component library
We generally use Axure for prototyping and user-testing. Axure is not part of the general product catalogue in SEB:
Add the Axshare space
Get added to the Axshare project space called "SEB Common libraries", by contacting conny.x.andersson@seb.se.
You should now be able to load the SEB library directly into Axure.
The library is updated automatically if you add the components according to these instructions.
Axure templates
These are our Axure templates for easy startup of new projects:
Instructions for adding a library to Axure
1. Locate the Libraries View.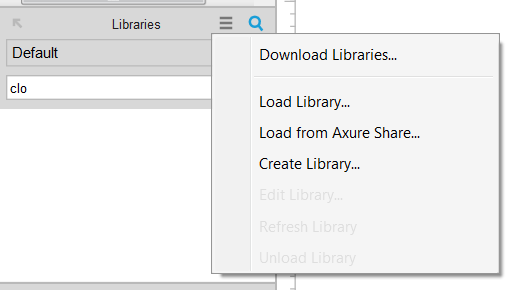 2. Press on the hamburger menu item. Select "Load from Axure Share…"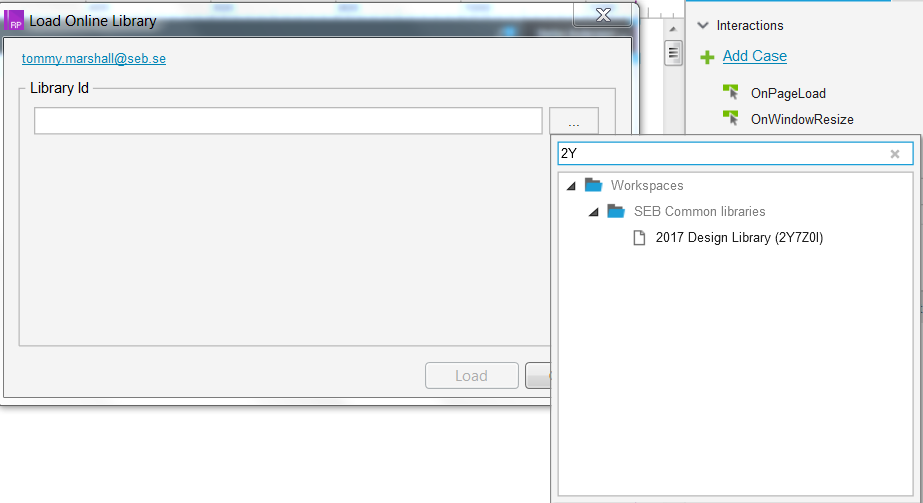 3. Navigate and locate the library called "2017 Design Library (2Y7Z0I)". It can be found under SEB Common libraries and you need access to this project area.
You should now be all set to start using the Axure library. Good luck!
Psst...!
If you want to contribute to the components in our Axure library, please contact tommy.marshall@seb.se.