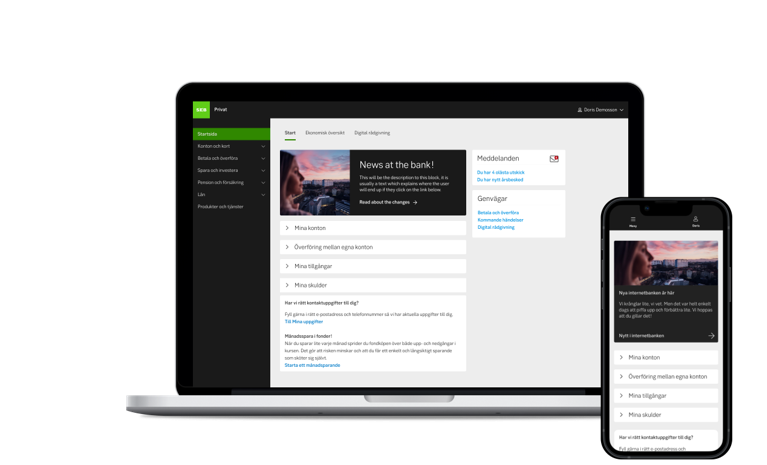 Our vision
For any private individual who wants to improve their economy, the internet bank is an easy-to-use, sustainable, coherent and secure digital channel that empowers you to fully manage-and improve your economy no matter if you are on a laptop, tablet or smartphone.
To be successful in this we need to change our mindset and the way that we develop our digital services and offering towards our customers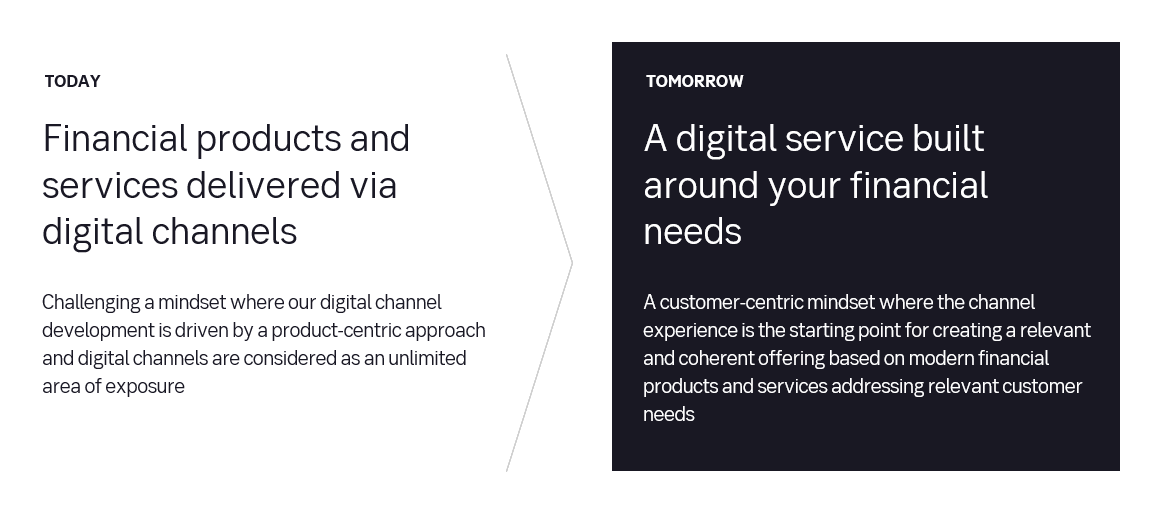 From the customer's perspective
Our digital channels for private individuals have some 1 200 000 users, all unique individuals with different needs and aspirations.
Individuals go through different stages of life. Each stage comes with different needs. These life changes are often closely related to our personal finances.
We need an understanding of the overall collective needs But the offer to the individual must always be based on their specific needs.
Behavioural segmentation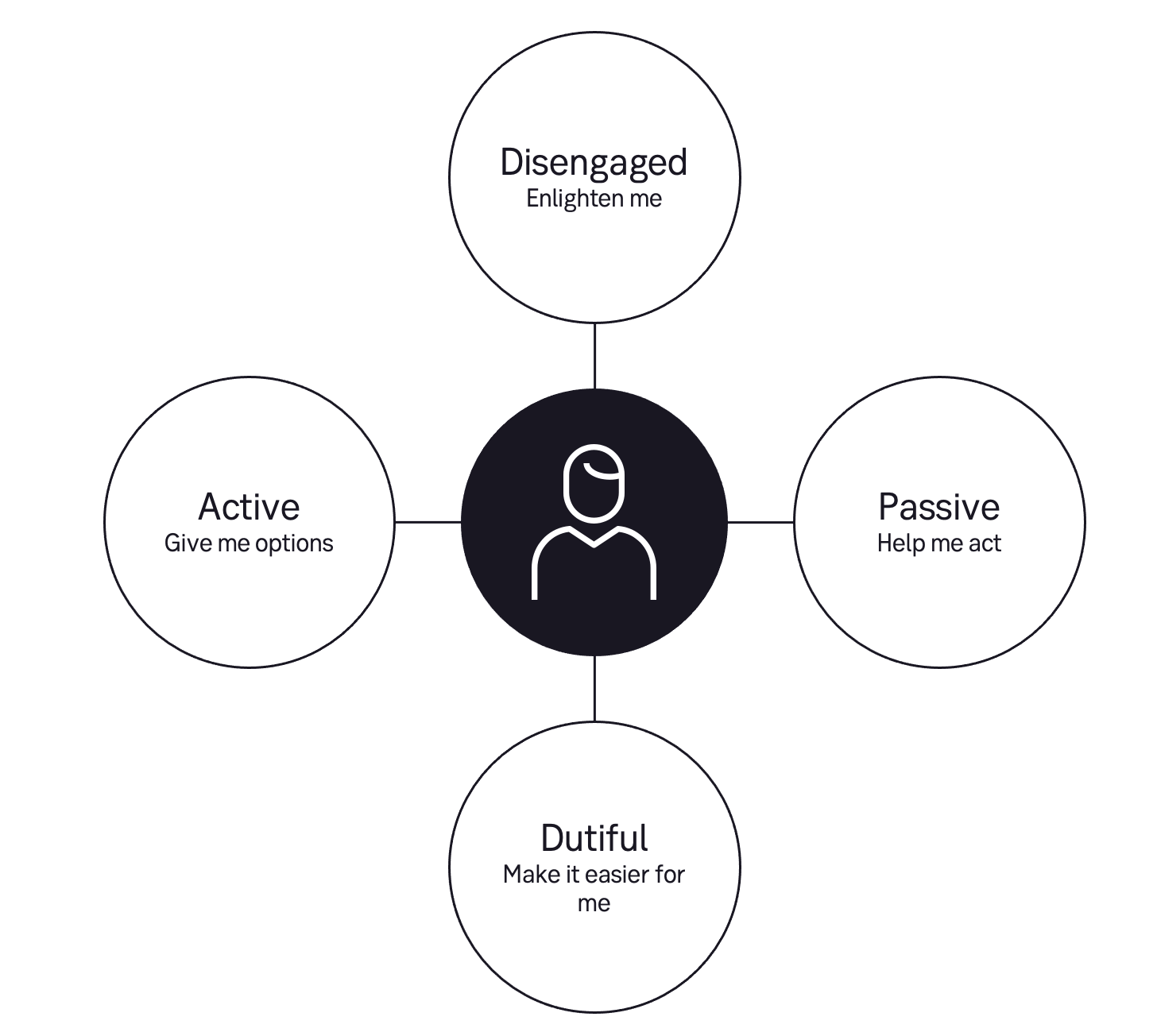 To meet the complexity of a large group of users and to be individually relevant we use behavioural segmentation to understand users' behaviors and mindsets in their different engagements with the bank. I.e., one may be active in savings but passive when it comes to pension.
The 4 behaviour groups identified are:
Passive – Help me act
Dutiful – Make it easier for me
Active – Give me options
Disengaged – Enlighten me
Since 3 out of 4 behaviours is not prone to take actions, we always need to be very good at helping them to take the next step in their decision-making-process. This we do, among other things, by using the SUDA-model described next.
Content strategy SUDA – model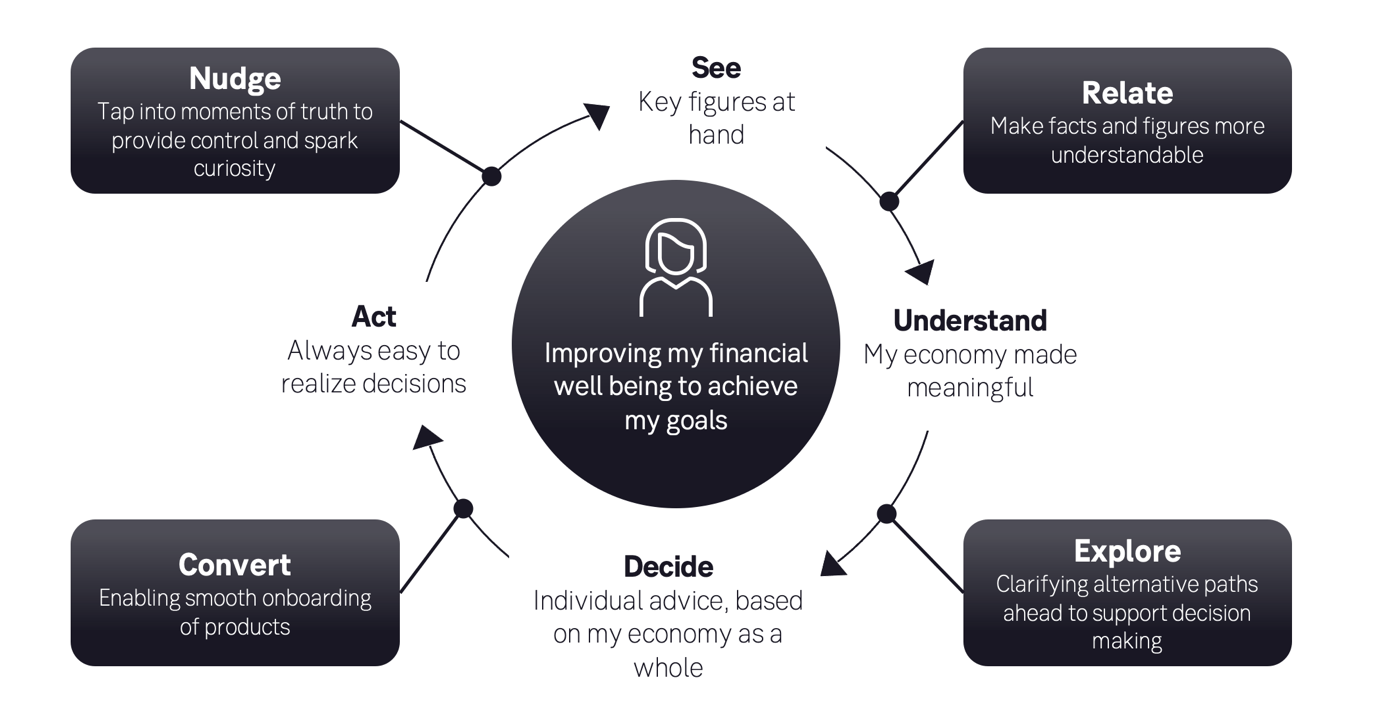 When designing for the logged in experience we extend the original SUDA-model (see, understand, decide, act) by adding a few parts to the model, these are:
Relate - Make facts and figures more understandable.
We need to help our users to not only view their engagement and their information but also simplify when possible and make meaning to the information they view. This can be done by adding visual aids or text that explain facts and figures so that the user better understands.
Explore – Clarifying alternative paths ahead to support decision making.
Keeping transparent to the users and to show them different options on how they can act on their situation is important to build trust and to empower them to further manage and improve their financial situation.
Convert – Enabling smooth onboarding of products.
When shifting mindset and taking steps towards a digital first retail bank we need to change the way we develop digital services and products. We must make sure that we have easy and smooth on and offboarding of our products – completely digital.
Nudge – Tap into moments of truth to provide control spark curiosity.
Our users strive to be as efficient as possible and subconsciously they are looking for shortcuts to help them make small and bigger decisions. Therefore, we should provide visual and mental clues to help them make decisions as automated as possible.
The web concept
The concept presentation contain more information and describe these areas in more detail. The concept describes the different strategies and guiding principles we will use to take step towards the vision.
In short, the document describe the concept of:
Vision and digital channel ambition
Navigation
The different zones
Pages, modules and widgets
Different page types
Ways of thinking and guiding principles
If you are planning on adding a new feature to IBP please read through the web concept material to make sure that you are applying our guiding principles and understand the different building blocks when you are developing for this context.
We continously work on updating the concept. You find the version 1.0 here below.
You also must follow the business contract (connections page – only available inside SEB).
Co-existence - Way forward for our channels
It will take a couple of years for us to transform our legacy platform into a new future proof channel platform. While transforming and rebuilding we adapt step by step to the new concept, meaning we will have coexistence between old and new technology and conept during a few years.
To create the best possible user experience during this time we will:
Wrap old pages/functions in modules and placing these in new channel.
Replace old pages/functions with new modules in new channel.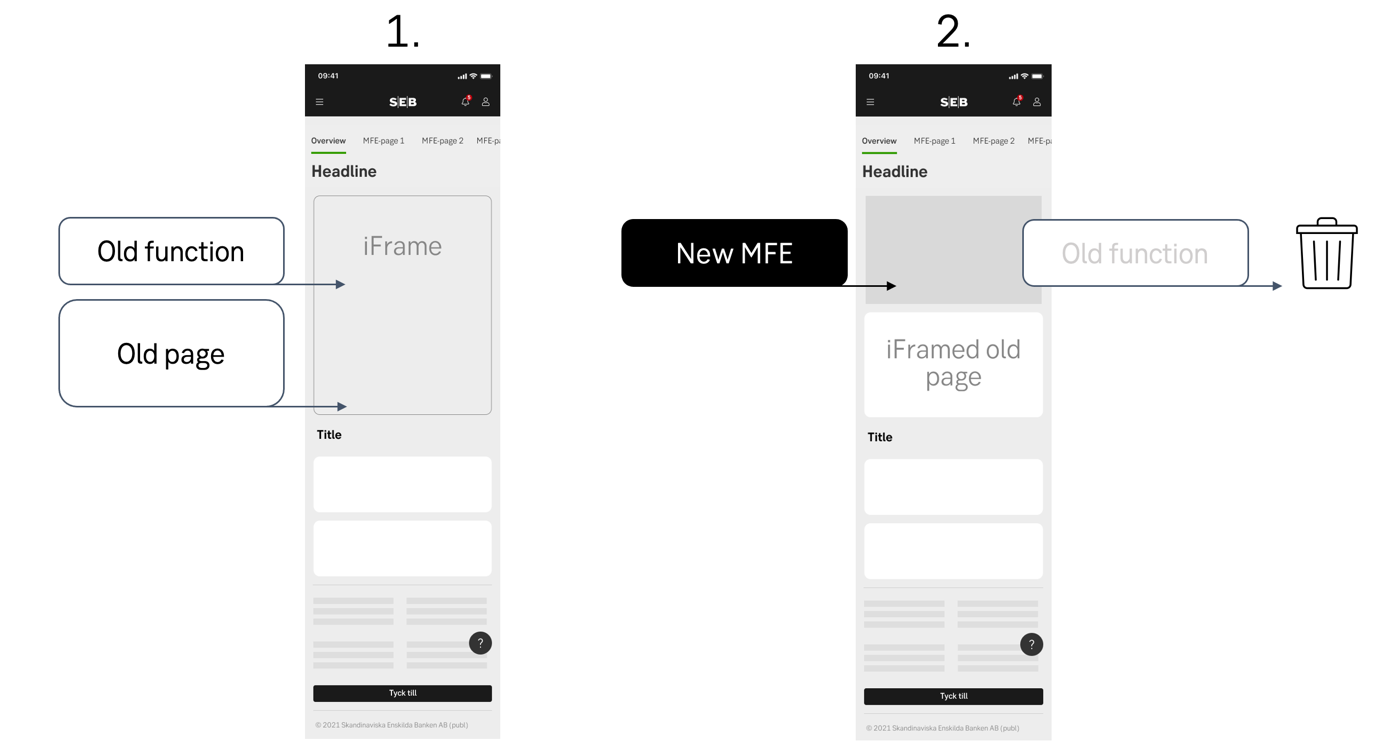 Who to contact
If you have any further questions, please contact us.
Channel manager: Camilla Palmblad Bergquist
Product owner: Pär Ståhlberg
CX Lead: Sara Eriksson
Architect: Niklas Ståhle