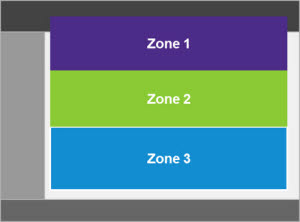 In larger viewports the layout of the zones will change and zone 3 will move up next to zone 2. See more on the page about Grid & responsiveness.
Zone 1: Header
The section is responsible for orientation and quick introduction.

The zone is divided into these features:
Backdrop (optional). May be an image, colour, fifth element or left blank (will then receive the background tint as default). The plan is to replace the backdrop with a black header in all shells, as in the example images above
Page title. A name of the page or sometimes a group of pages.
Introduction (optional). May be used to give an introduction or description of a product or explain features of the page
Notifications. Here users are notified about items they need to act upon, e.g. signing a payment.
Tech stuff
The zone is not a part of the module/spa that each project develops. Instead, each page needs to supply the shell with information such as header and introduction.
The notifications show content form NoteHub.
Zone 2: Main content
The main stage, where a module or widgets present the customers data.
This is the area where you as a designer and/or product owner develops the views needed for the specific area.
The layout is further detailed in different page types that keeps us coherent across the site. See more under Taxonomy & pagetypes.
Tech stuff
In this area the spa/micro site is hosted
Zone 3: Explore
The zone presents information that may be the next step for the user. This may be a promotional offer, or simply links to related pages/functions.

Some content may be presented based on the page's purpose while other content may be selected based on the customer or his/hers financial situation. For example, a page about accounts may show information about what services you could connect to your account, but if you do not have any accounts, it may instead promote what accounts the bank can offer you. Visually this zone will borrow its style from public web being more bold and loud.
Tech stuff
The zone content is handled by the shell, much in the same way as promotional messages are handled in current IBx ("puffarna" in Swedish).
Example